Hi everyone,
I think we all relate to how the change of seasons gives way to a change of mindset in terms of feelings, inspiration and overall energy. This time of year I often think about a subject that unfailingly evokes an emotional feeling in all of us – war. Specifically, conflicts that feel in touching distance of our lifetime. Whilst it might seem somewhat a melancholic subject to paint, especially considering the current conflicts in the world, the impact these events have had on us all is undeniable. The role of the painter is a storyteller, just like an actor or lyricist. The representation of conflicts in paintings is nothing new, from Turner to Picasso, Goya to Manet, many artists have retold the story of war in the form of a painting.
I think back to 2017, a year punctuated by a piece I conjured called 'Expendable Youth.' It depicted soldiers 'going over the top' in a landscape electrified with unorthodox hues—pinks, oranges, electric blues. Unlike typical war art steeped in earthy tones to capture the grime and grit, 'Expendable Youth' pulsated with a sort of vivid melancholy. The past few months I've felt compelled to revisit and continue the story of the Expendable Youth.

Although I have no military connection of my own, the fascination is personal. It's as much about the collective human experience as it is about my own curiosities. We all know someone touched by conflict, directly or tangentially. The sense of communal remembrance that envelops us every November 11th—Armistice Day—is a poignant testament to this universal connection.
I've completed 3 new paintings, ones that continue the narrative but twists the perspective a bit. The inspiration came from staggering statistics—8 million horses, donkeys and mules perished in the First World War. My imagination was captured by photographs of these horses, poised in gas masks, standing like ghostly sentinels at dusk. I spoke with a veteran of modern day conflicts who described the mesmerising hues that flare across the skies during conflict—pinks, oranges, reds. It gave me a unique lens through which to revisit my palette for these new pieces.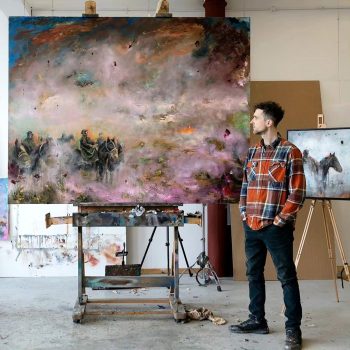 Intriguingly, there's something almost medieval about the look of these gas masks—a blend of archaic and modern that resonates with the transitional technologies of the time. From horses to tanks, from bows to bombers, there's a jarring juxtaposition that speaks volumes.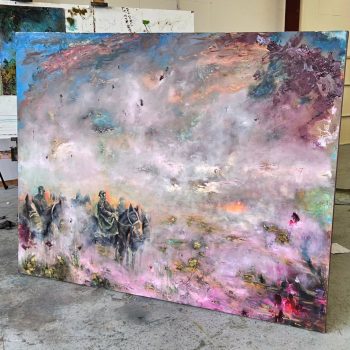 Painters are storytellers, etching narratives in each brushstroke. We capture moments of history, both personal and collective, to spark conversations and, hopefully, evoke feelings. The sunset at the end of a day, before the dawn of new day is something we can take for granted by no fault of our own, the scene of these men and horses going about their duty is as relevant today as it has been throughout human history with variables only being factors such as periods of time, locations, and technology.
As with many of my paintings, I invite you to continue the story when you look at my work.
On that note, I'm happy to present my latest paintings in the expendable youth series, these paintings will be on display at Pontone Gallery London from Nov 18th to Dec 23rd, for more information visit here.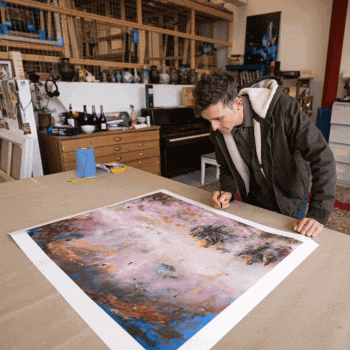 'Dusk' is available in limited edition print (edition of 75) you can pre order this now exclusively at Pontone Gallery before general release on nov 18th.
Warm Regards,
Chris